OPC Router Webinars – register now for free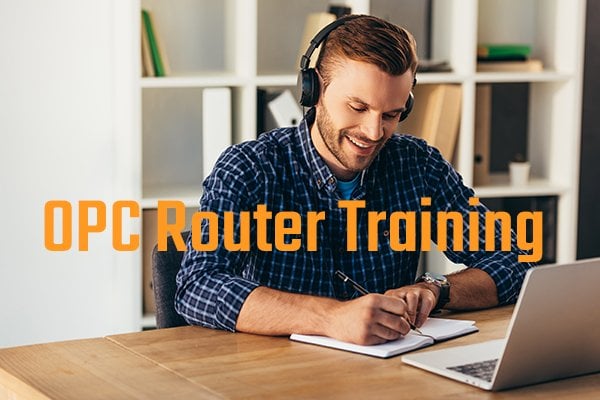 In our free and non-binding monthly webinars we answer questions on a specific topic related to OPC Router and give you the opportunity to get a detailed insight into our software. The number of participants is limited, so it's best to quickly secure your place at one of the dates on a topic that is important to you.
When do the webinars take place?
The webinars take place monthly on Thursdays at 09.00 a.m. and at 03.00 p.m. (UTC +2). We also offer our webinars in German. They take place on Thursdays at 01.00 p.m. The registration for our German webinars can be found here.
When do you receive your access data?
After successful registration, the access data for the webinar will be sent automatically to the address you provided in the registration form. You receive the access data one day before the webinar date and on the day of the webinar as a reminder one hour before the webinar starts.
Is the access data personalized?
Yes, the access data for our webinars includes a personalized participation link. This link is only valid for you personally and can therefore not be shared with colleagues in your company. Each participation requires a separate registration.
Have you missed one of our webinars?
If you have missed our previous training webinars, we will be happy to provide you with recordings of the previous trainings. Simply contact us via our contact form.
In addition to our scheduled webinars, we are also happy to offer you individual web sessions to answer your questions about the OPC Router. If required, please contact us via our contact form.
Register today and secure your place on the following days:
A detailed list with the contents of our webinars can be found here.
You will receive an e-mail from us in which you have to confirm your registration for the webinar.
Dates and topics
26 August 2021: OPC (Client and Server)
Learn how to establish a secure OPC client connection to an OPC server and how to make data from the OPC Router available via OPC UA using the OPC UA server plug-in.
23 September 2021: Usability / Tips & Tricks / Advanced
In this Webinar we will show you some special features and functions of OPC Router which will enrich your creation of new connections and make the usage of OPC Router even more easy.
21 October 2021: Scripting
We show you how to use powerful scripting options with OPC Router to enhance your connections.
18 November 2021: Printer Plug-ins
The OPC Router offers various possibilities to connect printers. In this webinar you will learn which possibilities the different printer plug-ins offer, for which printers they are suitable and how you can integrate the different printer types in your design of the data flows in the OPC Router in a meaningful way.
16 December 2021: ERP (SAP / SOAP SAP Web Services)
How to connect ERP-Systems via SAP and ERP Plug-ins of OPC Router with other IT- and OT-systems.
Run a free test now!
Get your personal link to the most recent OPC Router version and sign up for product news.
Test now!