OPC Router – the software for Industry 4.0
The continuous optimisation and automation of your production processes is the decisive key to the quality of your products, the efficiency of production as well as the success of your company.
OPC Router replaces old communication channels – up to the complete integration of PLC (Programmable Logic Controller), DCS (Distributed Control System), SCADA, MES (Manufacturing Execution System), SQL Server, label printers, email server and ERP systems. The Router as a central communication platform offers automated data exchange by integrating all systems and stand-alone solutions from the sensor to the cloud.
By recording your process data, you have a continuous overview of your production. The application possibilities are almost unlimited and can be implemented by yourself. We offer you comprehensive training for the application scenarios and use cases for your Industry 4.0 production process.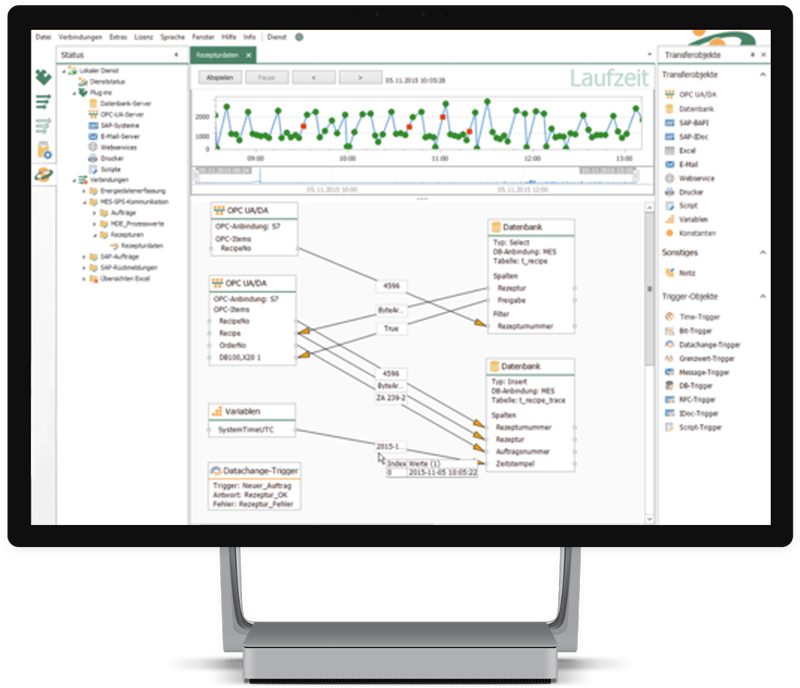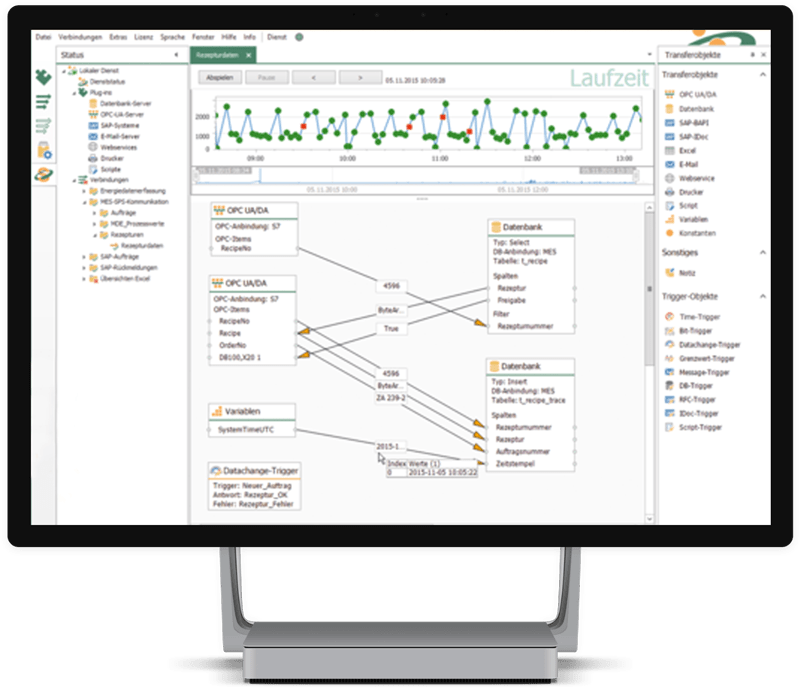 Standard interfaces for data exchange
State-of-the-art middleware for IoT and Industry 4.0 projects
Implementation of different connection types via powerful modular Plug-ins
Recording of process values, production figures, malfunction times and reasons for data loss as a basis for your production optimisation
Event-driven connectivity between automated systems
Creation of individual connections and transfers via user-friendly graphic configuration
How OPC Router works
The OPC Router works like a universal translator for your systems. It enables the communication of all systems and protocols and can be easily integrated into existing automation and production environments. With the appropriate Plug-ins, you can connect different automation and IT systems with each other by drag & drop, thus building your Industry 4.0 structure. In our video, we show you how easy and quick it is to get started with OPC Router and what the most important operating elements are:
OPC UA – the communication standard
in Industry 4.0
What is OPC UA?
OPC UA is a platform-independent way to communicate between different devices. It is used in all automation levels and enables the connection between a wide range of systems. OPC UA is therefore treated as one of the most important IoT / Industry 4.0 protocols. All details can be found in our article: "What is OPC UA?". The OPC Router acts as OPC Client software for OPC DA and OPC UA: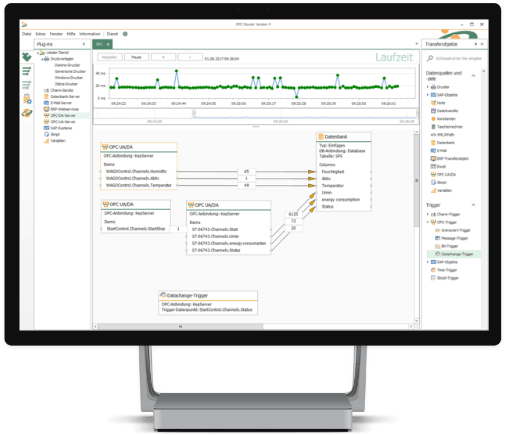 With the OPC Client Plug-inyou can read and write data points from OPC Servers: optimal for industrial data acquisition from any PLC or other devices

Full performance for secure communication
Transfers are triggered cyclically, on data change, per bit, counter or missing thresholds, bit feedback on successful or faulty transfer

The OPC Router can serve as a data logger, machine to machine gateway, IoT driver or gateway between PLC and other systems such as ERP, database or email
OPC to SQL – Data exchange
with SQL databases
In the various production levels, databases are an important source and target for data. Production processes have to be provided with order information, recipes or machine data. Large amounts of data are generated and stored in the process. These are all aspects of the IoT/IIoT (Internet of Things/Industrial Internet of Things) and Industry 4.0.
The OPC Router is a software-based middleware that connects databases and different sources and thus drives the idea of IoT/IIoT and Industry 4.0.
The ease of implementation and administration maximises remote data access while keeping operating costs low.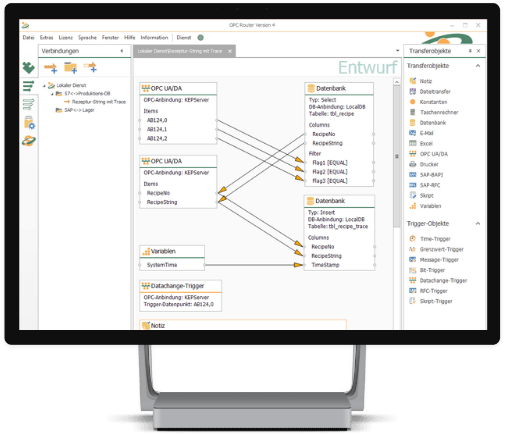 Integration and ETL tools for all systems and isolated applications

Setting up machine to machine applications (M2M)

Realisation of self-controlling production through automated data queries
Let your systems talk to each other
Here you can find more information about the various connection options with the OPC Router Plug-ins for the implementation of your individual Industry 4.0 project. You can also test OPC Router free of charge and without obligation or receive regular information about the most important topics and developments in the field of digitalisation via our newsletter.