The Communication Middleware. Innovative. Simple. Effective.
The central Industry 4.0 platform enables data exchange in your networked production processes to be automated and optimised. The OPC Router connects systems vertically and horizontally, from sensors and controls to ERP and the cloud, from printers and scales to MES, SCADA or LIMS. Find the solution for your connectivity project from the multitude of plug-ins and request your personal download.
The OPC Router is the central communication platform for your industry projects. It is based on standard interfaces for automated data exchange across all levels. OPC is an important communication protocol for Industry 4.0. As OPC client software, the OPC Router directly supports the construction of the Internet of Things (IoT) and Industry 4.0 communication.
Old communication pathways are superseded step by step and your production is modernised.
What does the
OPC Router offer?
What does the
OPC Router offer?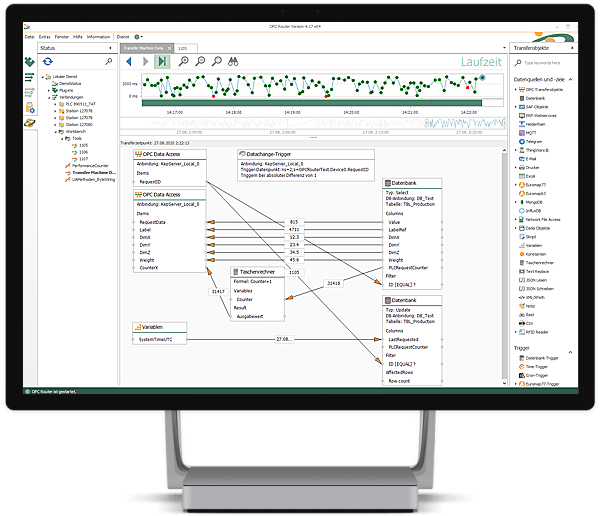 The OPC Router enables you to optimise and digitalise your production processes. Data is automatically exchanged by integrating systems such as OPC UA, SAP, SQL, MQTT, REST, SOAP, Excel, labellers and so on. The acquisition of process data gives you a continuous overview of your production.
The latest middleware with standard interfaces for data exchange

Various connection types using powerful plugins

Visualisation of all data transfers
Graphic configuration, exemplary monitoring and extreme reliability mean that the OPC Router paves the way for your Industry 4.0 projects.
Plug-Ins – Industry 4.0 system integration
Connections between and to the various systems are implemented using plugins. The OPC Router server licence applies for as many data points and connections as required. For special requirements the OPC Router can be designed with a modular format. Only plugins that you would like to apply for your use case have to be licensed.
Realise projects for automation and data exchange step by step without programming to modernise your production processes.
Request your download link for the latest version now and look forward to receive additional information:
News about our products and plug-ins
Tips for use
Dates for webinars and training sessions
Worth knowing and industry relevant information about industry 4.0.
Connect your systems and automate and optimize your production up to Industry 4.0.
The download link gives you access to the free and fully functional trial version of the OPC Router.
Awarded the INDUSTRIEPREIS 2018 in the category "IT and Industry"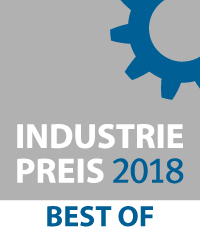 This is what our customers say
Processes via OPC Router run absolutely resilient and stable. The step-by-step automation of our production with the OPC Router has proven itself.
In projects like these, we created an integrated system for industry 4.0 with inray, which we can flexibly adapt and supplement as required.
In the past, orders for the production lines were entered in the SAP® system and manually transferred to an Excel list. This Excel sheet was printed out and had to be distributed to the various production lines. This was already very cumbersome for the production!
We made the experience that we can integrate our systems with OPC Router into almost every production line without any problems. We profit from the fact that many industrial companies already rely on the OPC Standard – this simplifies networking and saves our customers time and costs.
OPC Communication was still in its infancy at the time, but OPC Router was already working reliably and was easier to configure and operate than other solutions. The service provided by inray was also a good match.
OPC Router has enabled KennaMetal to not just stream machine data up into the cloud seamlessly, it also allows us to pull and combine information from SAP and other data sources to have a more uniform data set for machine learning and dashboarding.