Cloud integration and cloud computing for industry
What is cloud and cloud computing and how can you connect your industrial environment with the cloud? We explain how you can benefit from working cloud-based and present a few practical application possibilities.
Cloud and cloud computing
Cloud Computing refers to the access to information that is located in the Cloud, i.e. in a so-called virtual space. Companies that offer cloud services allow users to store their files and programs, instead of on their own local systems, on remote servers and then access all the data via the Internet. This means that the user does not have to be in a specific location to access their data. They can work completely remotely.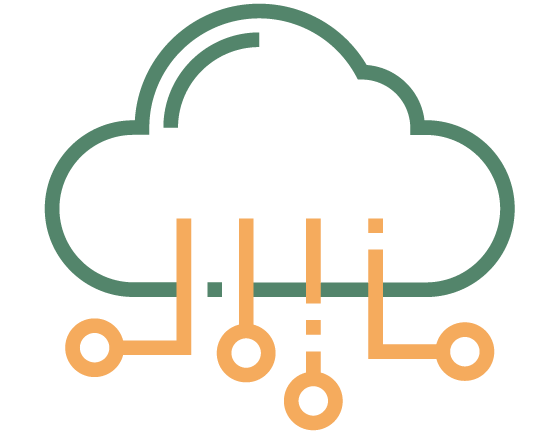 Industrial manufacturing and production
connected with the Cloud
Instead of keeping files or applications on a local system, cloud computing allows them to be stored in a remote database. Then, as long as an electronic device has access to the Internet, it also has access to the data and the programs that run it. Cloud computing is used in industrial environments for reasons of cost savings, higher productivity, speed and efficiency, performance and security.
Worldwide data retrieval from a wide range of devices

Savings through lower investments in own IT

Maintaining of local resources
Application of cloud computing in industry
The industry uses cloud computing in different ways. Some users keep all applications and data in the cloud, while others use a hybrid model where certain applications and data are stored on private local servers and others in the cloud. When it comes to service delivery, the following vendors are among the major players in the enterprise cloud space:
Modular integration of cloud components
For a fully comprehensive use of the cloud, the communication to various systems is realized, processes automated and the Industry 4.0 system integration implemented. Here we list a variety of freely combinable connection options to optimally integrate your project.
Implement your cloud connection now!
To get started with cloud computing, request your download link for the latest version of OPC Router communication software now and look forward to:
News about our products and Plug-ins
Tips on how to use the software
Dates for webinars and training sessions
Interesting facts and industry-relevant information on the topic of Industry 4.0
Connect your systems and automate, optimize your production towards Industry 4.0.
The download link gives you access to the free and fully functional trial version of OPC Router.