OPC Router increases automation effect
In order to increase the availability and quality of its automated manufacturing processes, the power tool manufacturer STIHL uses OPC Router for production, quality testing and documentation at its plants.
The STIHL company is known as a manufacturer of high-quality chainsaws, hedge trimmers and brush cutters for use in forests and gardens. The high volumes of series production justify self-developed automatic stations, handling and transport equipment, robot stations and testing machines. The overall degree of automation is already very high. "We see a competitive advantage in the fact that we manufacture many systems and special machines ourselves," says Thomas Ruppmann, electrical designer in the equipment design department. "The high quality and the regular exchange with the maintenance department result in low downtimes, especially in the highly automated assembly". Programmable logic controllers (PLC) from the Siemens Simatic series are used here, as well as there are the Sinumerik CNC or Simotion families, robots from Adept, Fanuc and Kuka, components from Festo and Bosch Rexroth, and sensors and actuators from all the well-known automation manufacturers. But how did these components become an optimally functioning, highly automated process with short changeover times for the various products?
Automation with OPC Router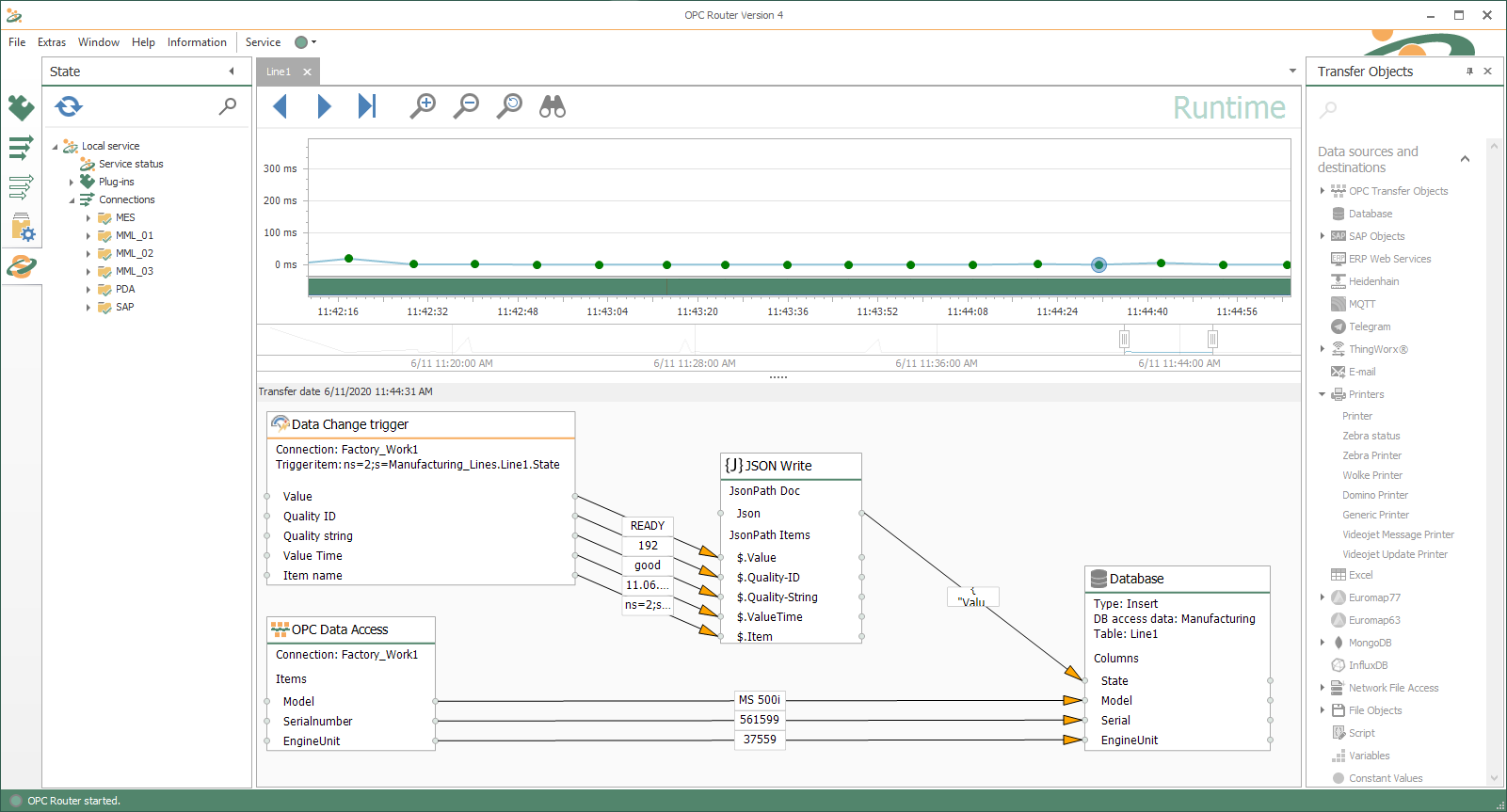 "In order to optimize the production process and increase quality, we started data acquisition and visualization in production around 20 years ago," Ruppmann recalls. "That was long before terms like Industrial Internet of Things (IIoT) or Industry 4.0 came up." He came across the inray OPC Router about 15 years ago while searching for a way to read process values from a PLC on an event-driven basis and transfer them to an evaluation software. "OPC communication was still in its infancy back then," says Ruppmann, "but this OPC Router was already working reliably and was easier to configure and operate than other solutions. The service from inray was also a good match. Today there are 16 installations in Germany, as well as in the plants in the USA and China. Each assembly line communicates via an OPC Router with its own local Microsoft SQL Server database, which holds all the information necessary for production and which is generated during the processes. Central databases, which combine information from all assembly lines, operate at a higher level. "This architecture increases security and speeds up communication," explains Dominik Feil, who is in charge of production on the IT-side and supports the equipment design. "That's why we made it as a standard a few years ago."
Documentation and Traceability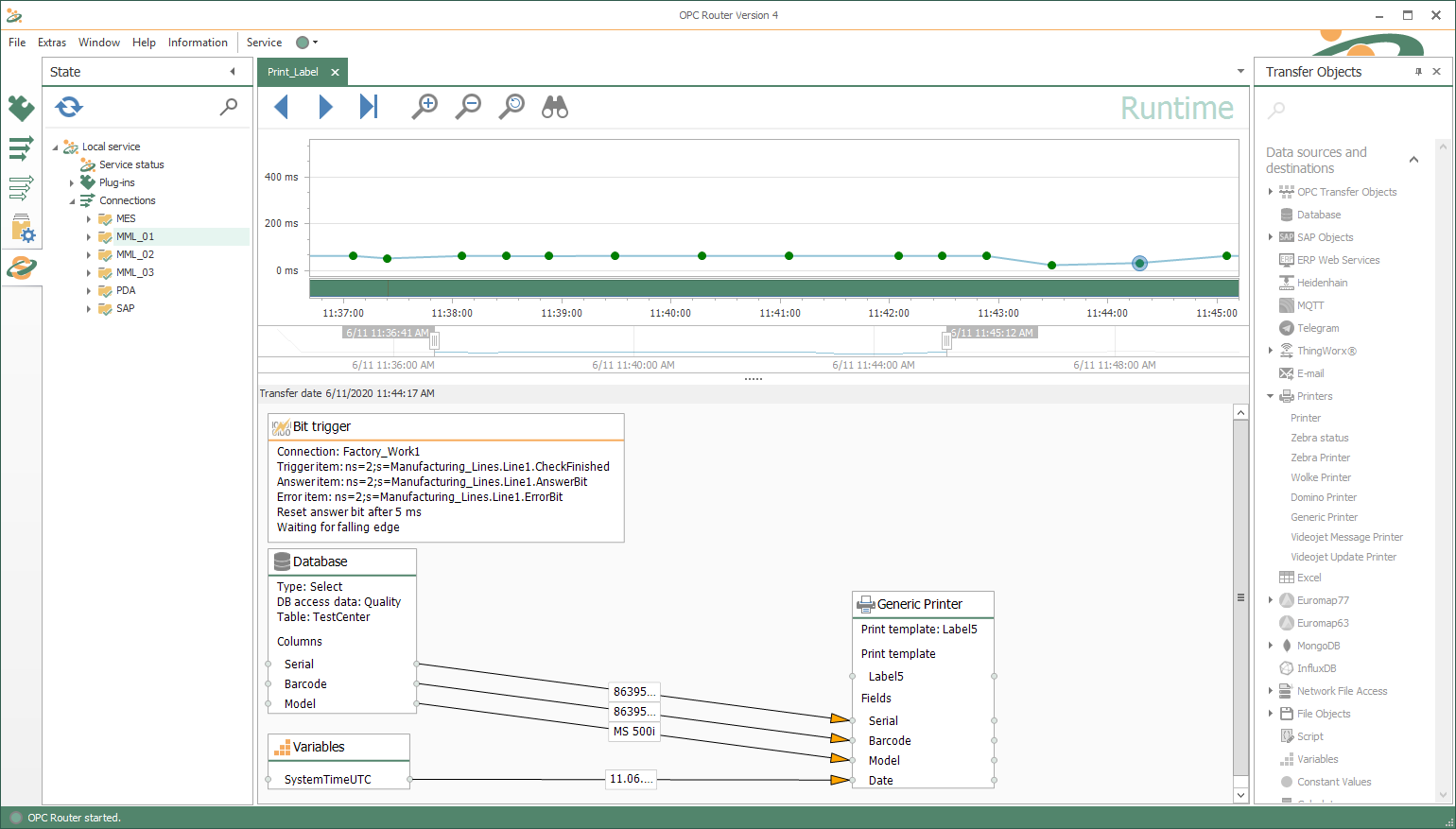 Accordingly, the order information from the SAP ERP system and its database is transferred to the assembly line's SQL Server and then via OPC Router to the PLC. Such communication with external systems becomes possible through SAP's standardized interfaces. Feedback from there also flows via OPC Router first to the local database of the assembly line and then to PDA systems and MES. All information about parts, parts lists or production periods is provided locally long before the order starts. "This means that in the event of a connection failure, the current order and the follow-up order can still be produced," says Feil. Necessary changeover procedures for other models and variants of chainsaws, brush cutters or hedge trimmers are supported by the system, including a check whether the procedures have been carried out correctly. Each automatic or test station thus has the right programs for the new processes. When a new order is released, a serial number range is defined.
At the first station of each assembly line, the resulting product is assigned its individual serial number, to which all further process values and status codes are appended during the run. This becomes particularly important when it comes to documenting the final inspection: During the running-in process, the petrol engines are adjusted to optimum performance and exhaust gas values, which are documented in the same way as the successful testing of the products' safety devices, such as the chain brake on the chain saws. With each finished product, a data record with detailed quality data is thus created.
Safety and effectiveness
Up to nine test cells work in parallel at the end of an assembly line to handle the intended throughput of motor units. The history of all relevant measured values from each of the test sequences, which last up to five minutes, is documented. In addition to OPC Router, the KEPServerEX, a real-time OPC Server from Kepware, also distributed by inray, is used for this purpose. The use of network, device and system resources must be kept to a minimum to avoid interruptions in the data flow.
OPC Router increases automation effect – Published in German 05.04.2019 Maschinenmarkt | Author / Editor: Thomas Tosse / Reinhold Schäfer
OPC Router works as an universal translator for your systems. It enables the communication
of all existing systems and protocols and can help modernize processes in the long term. Our video explains how OPC Router works, how it can be integrated into your system environment and what advantages it offers your company.
OPC Router is multifunctional and very easy to use. Connections are created simply by drag & drop and numerous Plug-ins enable the connection of a wide variety of applications and systems. Read more details about the advantages of OPC Router and how you can achieve an automated data exchange and thus the optimization of your processes.
Getting started with OPC Router is easy and can be done quickly. Our video shows you which elements are important and how you can connect different automation systems via drag & drop with suitable Plug-ins.
Run a free test now!
Get your personal link to the most recent OPC Router version and sign up for product news.
Test now!