Charm EZ Reader – Inhibitor Screening Test
In order to control production and manage raw materials well, analytical data is very important. Processes need to be closely aligned to provide the most efficient and best production procedures. This includes permissions and rights management. The Inhibitor Screening Test by Charm is an intelligent testing and screening device that is network-ready.
The OPC Router with the Charm EZ System plug-in serves as a central receiving point for analyses. A handshaking procedure ensures that all analyses are buffered and transmitted from the devices to the OPC Router so that no analyses get lost. The OPC Router receives analyses from any number of Charm EZ readers and transmits the results to databases or other systems (see Plug-ins). With OPC Router, is a fast and automatic reaction to antibiotic or mycotoxin contamination in raw materials possible.

Charm EZ Reader connection via drag & drop
The connection of your systems to the Charm EZ Reader is very easy and intuitive with the OPC Router via drag & drop. In the screenshot we show you an example of an application of the OPC Router and the Charm EZ Reader. In the screenshot you can see an example SQL database connection where data from Charm EZ Reader is stored in the database.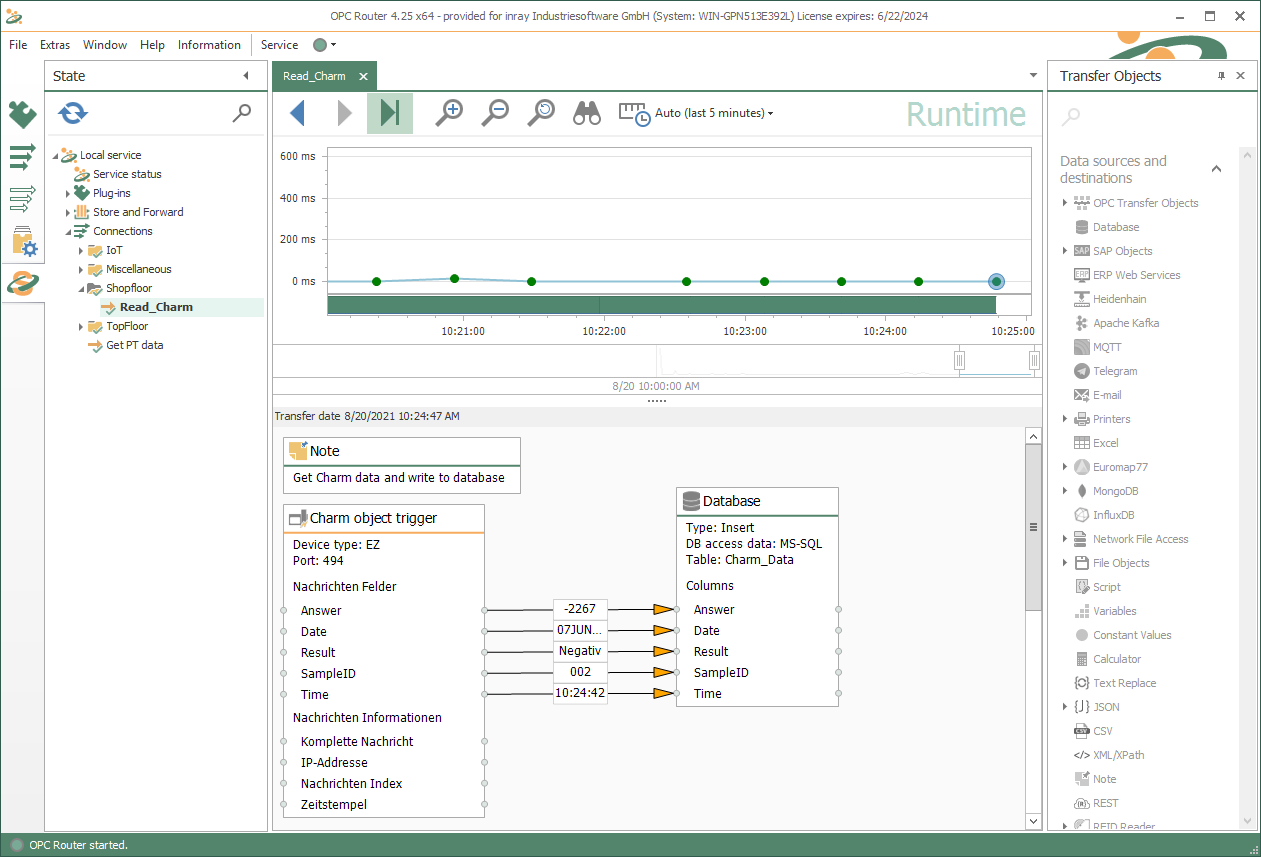 Bringing Industry 4.0 to life with the Charm EZ Reader
Achieving more with coupled systems:
If an analytical screening device like the Charm EZ Reader, which is used for inhibitor screening tests, is not interconnected – and thus part of the production plant, all analytical work has to be copied from the device onto paper and then entered into another system manually. This is time-consuming and error-prone. The OPC Router ensures that test results become available in a connected-systems environment and that data management becomes totally automated. Once this is the case, no one has to wait for test results and everyone can be sure that the inoramtion provided is correct. The whole process is now much safer and faster.
Industry 4.0 via Charm:
Connecting screening devices that test liquids or other material for possible contaminations – among many other analytical testing scenarios – makes it perfectly clear why analtical testing devices need to be interconnected to other systems in a laboratory or production plant, providing the quality of Industry 4.0 connectability. Instead of dealing with manual data entry and data distribution on paper with double or triple data entry scenarios, data is exchanged automatically. Other systems can receive and pass back data through the interface technology provided by the OPC Router.
About OPC Router:
The OPC Router offers a visual network configuration interface for successful cross-linking of your systems. A high variety of plug-ins turns the OPC Router into a powerful data hub for industrial applications. Easy configuration, sophisticated monitoring and robustness are main distinguishing features of the OPC Router.
Transfer-Objects
The Transfer Object of the Charm plug-in makes fields with analytical results available.
Fields
Every analysis has multiple specified fields that can be selected as data fields. The most important ones are Result (level of stress), SampleID (sample number), Interpretation (i.e. whether positive or negative), LotNumber (batch), as well as many more.
Trigger
The Charm plug-in has three Triggers that become active when messages are received.
Data
When the Charm reader sends data, a transfer is triggered. The analytical data is made available in data fields.
Heartbeat
In order to monitor and control devices, a heartbeat can be received. The heartbeat can be set up as trigger: As soon as a heartbeat occurs, a trigger becomes active that prompts a transfer. This can be used to document the online status of a device or to prompt an error message alert, for instance.
Errors
If errors are detected, a trigger becomes active. This makes it possible to target errors specifically in order to solve problems quickly.
Browsing
The Charm plug-in makes all fields of the respective device type available  that the manufacturer offers. These fields are made available as data fields.