The Euromap 77 standard describes the interface between injection molding machines  Spritzgussmaschinen und systems above, such as MES, ERP, QM, etc. Euromap 77 is a relatively young standard, which has established a common interface for injection molding machines for all injection molding machines manufacturers.  Euromap 77 supercedes the Euromap 63 and is based on OPC UA, which is one of the most widely used Industry 4.0 protocolls.

Euromap 77 connection via drag & drop
The connection of your systems to the Euromap 77 machine is very easy and intuitive with the OPC Router via drag & drop. In the screenshot we show you an example of an application of the OPC Router and the Euromap 77. Via the ready-to-use Euromap 77 objects, Euromap 77 machines can be connected to a database and OPC UA data with the OPC Router.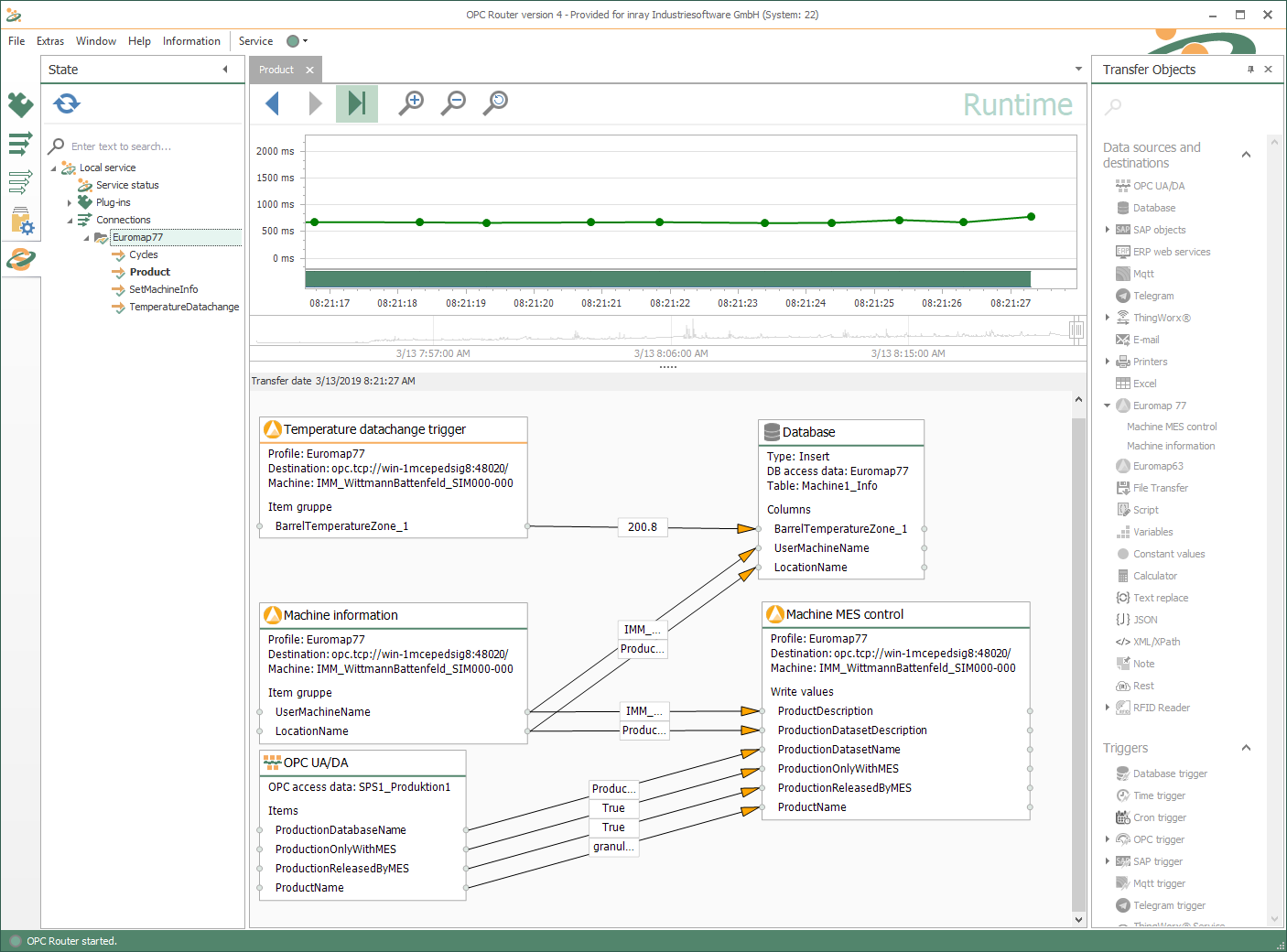 Bringing Industry 4.0 to life with Euromap 77
Achieving more with coupled systems:
Injection molding machines are often at the heart of production. This is why their full potential needs to be utilized to bring about quality improvements and efficiency increases. The OPC Router plays a vital role in optimizing production procedures by transmitting orders to the machine as well as by reading and retrieving production process values.
Industry 4.0 via Euromap 77:
An injection molding machine without crossconnections to other systems cannot be part of Industry 4.0. The Euromap 77 standard is based on OPC UA. If used with the OPC Router as connection facilitator for a networked-based production, Industry 4.0 advancements can be implemented promptly.
About OPC Router:


The OPC

 

Router

 offers a visual network configuration interface for successful cross-linking of your systems. A high variety of plug-ins turn the OPC Router into a powerful data hub for industrial applications.

Easy configuration, sophisticated monitoring and robustness are main distinguishing features of the OPC Router.
Transfer-Objects
The transfer object of the Euromap 77 plug-in encompasses the specification scope of Euromap 77.
So far, Machine Information Fields and MES control (control of the MES interface) are available in combination with the feature-rich OPC Router.
Trigger
The Euromap 77 Plug-in comes with a multitude of triggers that represent diverse machine events. The plug-in makes data events both accessable and available.
Trigger Categories
The scope of triggers available for configuration are various type of output triggers. One trigger type sends machine-related messages (events) to the OPC Router. Another trigger type monitors internal machine conditions, which is partly done via messaging; but not only. And yet another trigger type signals temperature changes of the injection molding machine.
Triggers
The following triggers are available:
Request Cycle Job Write
Request Production Dataset Write
Request Production Dataset Read
Request Cycle Job List
Part Counter
Job Status
Cycle Parameters
Machine Mode
Temperature DataChange
Production Status
Temperature Deviation
Browsing
The Euromap 77 plug-in reads out all available data points automatically, pertaining to standard functions as specified in the Euromap 77 specification. It then makes the data available via its associated transfer objects and data carriers.