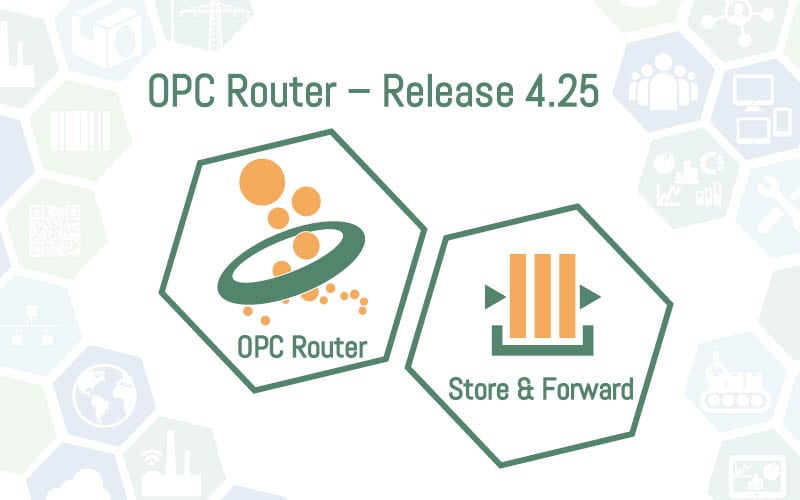 We regularly update our software and equip it with attractive features. Because it is important to us to implement explicit customer wishes and to offer the many OPC Router users up-to-date and user-friendly functions. With the new release, you can look forward to the introduction of Add-ons, the new clearly structured licence portal and a massive increase in speed in all areas. In addition, the limit for the database size is dropped, which is now only linked to the hard disk capacities.
New Add-on "Store & Forward"
As of version 4.25, the OPC Router supports "Store and Forward", which prevents data loss if the receiver (e.g. database server, MQTT broker) is not available or if the database cannot process requests fast enough. When these situations occur, the OPC Router records the data captured during the connection failure. As soon as connectivity is restored, the data is read on the OPC Router and subsequently transferred to the originally desired destination. Store and Forward is thus intended to buffer unstable communication channels that are not time-critical as well as without a response to be processed, and to transmit the data while communication is still established.
The Add-on is useful, for example, if the target systems (SAP, databases, etc.) fail for a short time, either planned or unplanned. Reasons for this can be maintenance, backups, malfunctions or even a network failure. In these cases, data gaps would occur, which are then retransmitted and closed with Store and Forward.
Even if statistical production data is collected in the cloud (for big data analysis), it is a great advantage to collect data locally in the event of a communication failure and transmit it later, as this data is not used directly for process control.
New Add-on "Redundancy"
For high-availability applications, two OPC Routers can be installed in a network as primary and secondary. They monitor each other and if the primary OPC Router fails, the secondary OPC router automatically takes over all functions from the hot stand-by. When the primary instance is available again, the secondary OPC Router automatically stops the execution and switches back to stand-by mode.
New Add-on "Enterprise+"
Dynamic template instances
With the templates, it has been possible for some time to create "templates" in the OPC Router. These are structured similar to the connections, but have variable data points that can be created for similar connections for each instance. Until now, this was only possible manually, by batch creation or via a CSV file import. With the Enterprise+ Add-on, these instances can now also be created automatically via the databases. For a template, a wide variety of variable values can be transferred in a table for each instance. If a new entry is made in the source database, a new instance is automatically generated (e.g. a new device has been added for a temperature transfer). Even if the template changes (e.g. a time stamp transmission is added to the temperature transmission), all existing and future instances change automatically.
Extended notification groups
The OPC Router offers alerting and information possibilities by setting up a notification group. For example, the notification recipient can be automatically informed by e-mail about scenarios such as transmission errors, Plug-in errors or connection errors. With the option of "Advanced Notification Groups" in the Enterprise+ Add-on, additional notification groups can now be defined. For example, an error concerning an SAP connection can reach different addressees than an error reporting a too low filling level of plastic granulate in an injection moulding machine.
Redundant connection of subsystems
In addition to the possibility of using the OPC Router itself in redundant operation, the Enterprise+ Add-on also offers the function of connecting sub-systems that run in their own redundant environment. This can involve, for example, connected SAP systems, systems connected via OPC Classic or OPC UA or database systems such as MS SQL. With the Plug-ins available in the OPC Router, these "primary or secondary environments" can also be connected with the Enterprise+ Add-on.
New licensing portal for a better overview
The release provides the new, clearly structured online portal for licensing. Here you have an overview of
the active OPC Router licences,
the corresponding runtimes and
can view information on existing maintenance contracts.
The online activation of your licences is conveniently possible in the licence portal.
Zipher protocol for Videojet printers
Through the integration of the new Zipher protocol for Videojet printers, information on the printer status can now also be queried and transmitted. For example, the monitoring of Videojet status messages now makes it possible to transmit a printer malfunction via push message via email or social messenger such as Telegram, and the message recipient can intervene immediately.
Further innovations
More than 40 features have been newly implemented or edited for OPC Router version 4.25 and this release represents the next development step of the high-performance middleware. A few further improvements should be briefly mentioned here: The integration of PFX certificates is now possible and OPC Router Plug-ins can be switched to productive without a restart.
The significant increase in speed in all areas is achieved by an internal database conversion of the OPC Router to the NoSQL database MongoDB. With this performance boost, the limitation of the database size is dropped at the same time. This is now unlimited and in the local environment only linked to the available hard disk capacity.
In addition to the possibility of continuing to purchase perpetual OPC Router licences with a maintenance contract, we have extended our subscription model (software rental or time-limited use). The subscriptions are now available in three levels:
Plain
Standard
Enterprise
Basic/Compact contains the OPC Router basic licence, as well as individual selected Plug-ins. The standard subscription model already includes all standard Plug-ins (including future ones). The Enterprise model includes (as the highest subscription level) all available Plug-ins, Add-ons and extensions, including all future improvements and updates. For more details and to learn more about the benefits of switching to our Enterprise model, please contact our sales team.