All printers that support Windows drivers can be addressed with this Plug-In. The OPC Router provides a visual interface that acts as a label designer, allowing easy configuration of layout and print fields. No manufacturer-dependent design software is required. You can use conventional label printers to get your label printing jobs done beautifully and easily.
Watch our tutorial video to see how easy it is to design labels and set up print jobs with the Windows Printer Plug-in or find a more detailed video about the topic "from process data to the finished label" by visiting our tutorial stream.

Windows Printer connection via drag & drop
Connecting your systems to a Windows Printer is very simple and intuitive with the OPC Router via drag & drop. This screenshot shows you an example of an application of the OPC Router and the Windows Printer. The database trigger triggers a transfer with a data set and the data is read from the database, transferred to a printer transfer object and assembled into a label.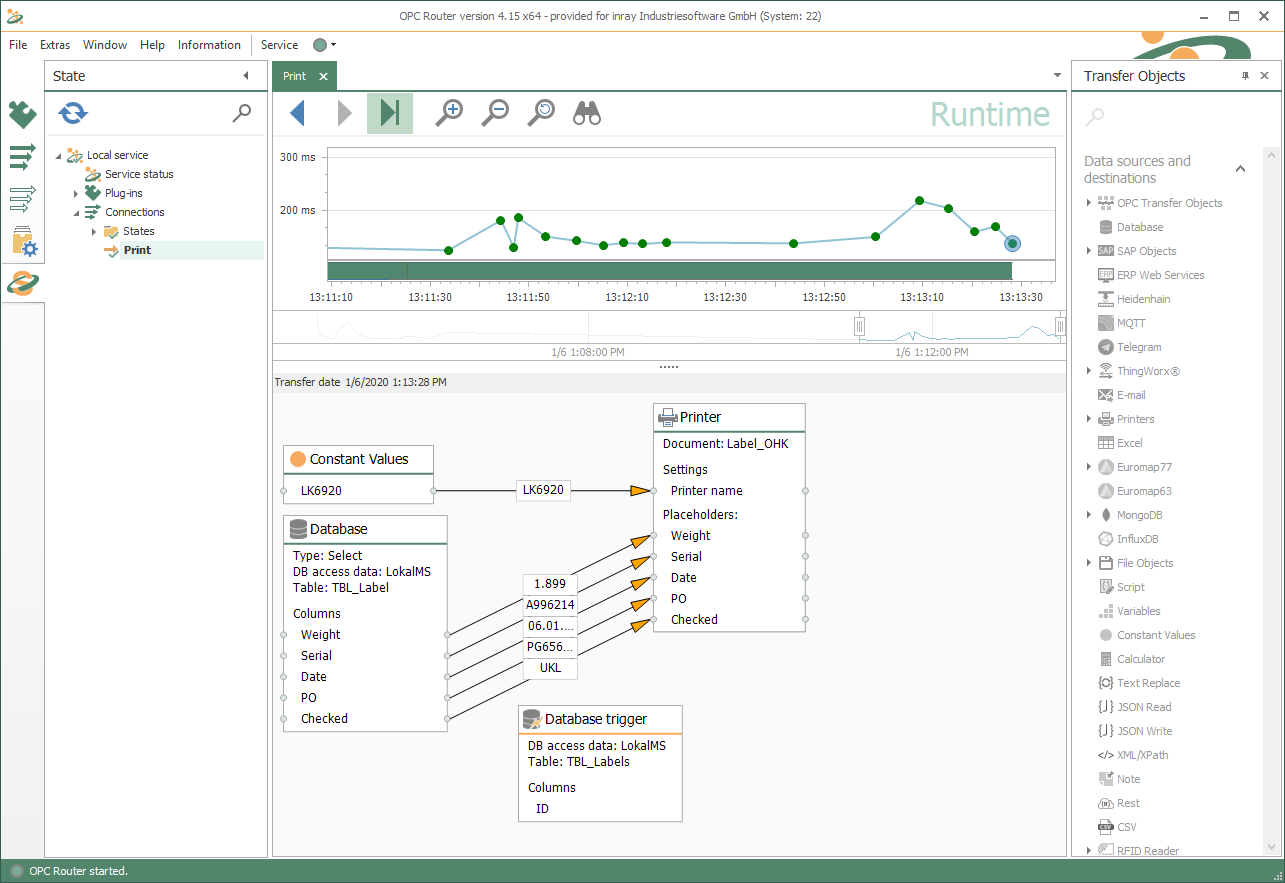 Bringing Industry 4.0 to life with Windows Printer
Achieving more with coupled systems:
Printing systems are important for labeling or marking products with the appropriate product information. Product documentation needs to be printed for correct product identification in accordance with the applicable rules and regulations that apply to the product or product range.  The OPC Router transfers the required data from other connected system for timely and correct printing of certificates, shipping documents or delivery notes, packing lists,  pallet notes, etc. The integrated data stream connection via the OPC Router renders manually processed printing jobs obsolete.
Industry 4.0 with Windows Printers:
The Windows printer Plug-In for the OPC Router is a useful interface because it connects your production plant, as one important step towards sufficient Industry 4.0 implementation throughout your business enterprise.
About OPC Router:

The OPC Router offers a visual network configuration interface for successful cross-linking of your systems. A high variety of Plug-ins turn the OPC Router into a powerful data hub for industrial applications.

Easy configuration, sophisticated monitoring and robustness are main distinguishing features of the OPC Router.
Windows Printer Plug-in application examples



Trigger document printing by the PLC via OPC UA
Document printing for produced goods is an important step in manufacturing. Documents make products identifiable, testable and ultimately saleable. Depending on the product, these documents can contain a wide range of information from various sources. Common sources include delivery notes, barcodes, product information or quality information (sterilisation or other treatment data). The data available in databases become important accompanying documents through the printout, which allow a quick manual check in internal and external follow-up processes. The printing of these documents can be completely automated via the OPC Router. The data for the documents is obtained from databases and the printout is triggered by a PLC via OPC UA, for example, and even extended with data. The documents are printed at the optimal time for the process and can include information directly from the systems.


Printer spooler service Bypass problems
Printing processes are often triggered from production processes and converted into print jobs for printers via management systems (ERP, MES). With this type of process, it is not uncommon for synchronisation to be lost and the printer spoolers, which work asynchronously to production, can cause an offset between the printout and the actual goods produced. This problem can be solved with the Windows printer plug-in. Via interfaces such as REST, SQL, SOAP, SAP-RFC or similar, the OPC Router can obtain print data directly from the management systems, store it and then print it directly on request of the PLC synchronously with the produced product. Without spooler problems and absolutely validated by handshake between PLC and OPC Router.
Video: Easy Printing with the Windows Printer Plug-in
Watch our tutorial video in which we show you how easy it is to print with the OPC Router and the Windows Printer Plug-in and how to set up your print jobs in OPC Router.
Transfer-Objects
The transfer object of the Windows printer Plug-in facilitates layout design with its own layout designer – as well as data transfer and printing.
Layout Designer
The layout designer helps create nice designs that can be saved as design templates. Moreover, the layout designer also allows the definition of variables that can be placed in any desired way in the template. Alternatively, variables can be transformed into diverse barcode designs, if the printed matter needs to be subsequently electronically scanned as part of the overall workflow.
Trigger
The Windows printer Plug-in has no trigger functions of its own, but uses the standard trigger functions provided by the OPC Router.
Browsing
The Windows printer Plug-in retrieves the data according to pre-defined variables of the applicable master template and makes them availalbe as data fields for printing.