Machine Data Acquisition (MDA), IoT and the Industrial Internet of Things (IIoT)
What new opportunities does increasingly comprehensive machine data acquisition offer today? How are machine data acquisition, modern IT and the IIoT connected and what are practical application possibilities?
Machine data acquisition (MDA) and Big Data
The amount of data collected in industry is increasing at an unprecedented rate. With the increasing prevalence of networked systems, there is a real opportunity to use machine data acquisition to improve productivity and effectiveness in the industrial environment. However, with this opportunity also comes a major challenge. How can Big Data really be used in a meaningful way?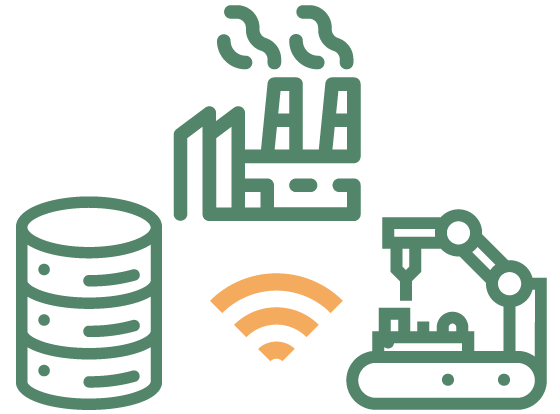 Analyze and use machine data correctly
In order to be able to analyze machine data optimally, the operating technology must be redesigned from the ground up. Conventional IT systems are unable to handle the huge volumes of data, as isolated systems within a larger network do not operate quickly or efficiently enough to process the data into meaningful instructions and insights. Machine data must be analyzed and evaluated in real time or at least with minimal latency.
Advantages of machine data acquisition
Minimize failures and errors

Improvement of the value creation process

Increase efficiency and productivity
IIoT connection of machine data
The IoT (Internet of Things) has quickly expanded into the IIoT (Industrial Internet of Things). The potential for integrating sensors into devices for data collection and automation is almost unlimited in industry. The more data that is collected, the greater the need to process and use that data efficiently. Faster analysis, more efficient use of bandwidth and storage, and better support for critical machines and applications are the goals that can be realized with modern IT using cloud and IIoT.
Networking machine data in a variety of ways
In Industry 4.0, there are hardly any isolated systems left. When the Internet of Things was still in its infancy, devices and sensors operated independently within closed and often proprietary systems. Accumulating data volumes were recorded in a separate system, with reporting only for a small group of machines or sensors. Today, in digitally networked production, machine data is recorded in a variety of ways, collected centrally, classified and used to improve the decision-making process in companies.
Record your machine data!
To implement the IIoT and capture your machine data, request a download link for the latest version of OPC Router communication platform now and additionally look forward to:
News about our products and Plug-ins
application tips
Dates for webinars and training sessions
Interesting facts and industry-relevant information on the topic of Industry 4.0
Connect your systems and automate and optimize your production towards Industry 4.0.
The download link gives you access to the free and fully functional trial version of OPC Router.