Integration and implementation of Industry 4.0
What advantages and new opportunities does the fourth industrial revolution offer? How can Industry 4.0 optimise your processes and where can you find relevant points of contact with the internet and cloud?
What is Industry 4.0?
Industry 4.0 is the latest era of the industrial revolution. Here, a multitude of stakeholders in industrial production are connected and interact with each other. These stakeholders are customers, products, production machines, sensors, software systems and also the people involved in product manufacturing. The product is accompanied throughout its entire life cycle. Manufacturing processes, the supply chain and other business processes can be reassessed. An increasing demand for customised products on the part of customers is one of the main reasons for the digital transformation in industry. Find out more about the question "What is Industry 4.0?" with just one click.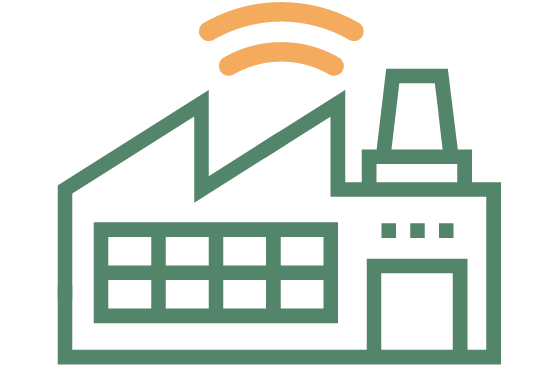 Optimize processes through Industry 4.0
Process optimization involves technological and human improvements that ultimately lead to higher productivity, product quality, less production time and lower product price. The basis for this is a full connection of all production processes to a centralized IT. The Industrial Internet of Things (IIoT) can also be used as a supplement in Industry 4.0 to carry out these process optimisations.
Your advantages from Industry 4.0
Increased competitiveness

More flexible manufacturing options

Individual production control
Data-based decisions with Industry 4.0 software
One role of IT in Industry 4.0 is also to ensure that the decision-making processes associated with process selection, resource allocation, process sequencing and scheduling are sufficiently automated. Knowledge from previous processes can be used here, but monitoring the ongoing processes in real time is more effective. This self-optimisation and self-control of an industrial plant guarantees high manufacturing productivity and overall plant effectiveness.
Industrial process and production planning
Industry 4.0 brings with it the requirement for new process and production planning, where most of the working environment is automated and the collected data is processed and evaluated locally and in the cloud. Machine-to-machine communication is expected to increase more than ever. This communication can be done with the right software. A comprehensive connection of the local production can thus be implemented with the various Plug-ins of the OPC Router.
Implement Industry 4.0 now!
Request your download link for the latest version now and look forward to receive additional information:
News about our products and Plug-ins
Tips for use
Dates for webinars and training sessions
Worth knowing and industry relevant information about Industry 4.0.
Connect your systems and automate and optimize your production up to Industry 4.0.
The download link gives you access to the free and fully functional trial version of OPC Router.